Touch the Future with the New Product Lineup from i3-Technologies
Written by i3-Technologies
Monday, May 2, 2022
As the world of interactive and collaboration technology continues to evolve, i3-Technologies aims to evolve its product portfolio to meet the needs of its customers and to tackle the challenges that they face when it comes to technology in their office or classroom. 
Meet the New Lineup
i3-Technologies recently launched the i3TOUCH X-ONE, the most performative interactive flat panel they have released to date. Now they are adding two new powerful counterparts to the lineup: the i3SIXTY 2 and the i3TOUCH E-ONE. 
The three newest interactive displays are a leap forward in the IFP market in terms of capabilities and features. The new i3-Technologies IFPs are using the latest mainboards and CPUs, all running on Android 11 OS, and are pre-installed with i3-Technologies' software, i3STUDIO. i3STUDIO includes all the interactive essentials: whiteboarding, annotating, wireless presenting, video conferencing, and an integrated browser.  
With i3STUDIO we ensure interoperability between devices, so you don't need to relearn how to use each device and you can work on one display and continue working on another. The i3STUDIO software is simple and easy to use and comes with everything you need right out of the box. 
Users of the i3TOUCH X-ONE, E-ONE, and the i3SIXTY 2 also get free unlimited OTA software updates. This ensures the firmware and software evolve throughout the lifespan of the device, with the proactive resolution of bugs, performance improvements, new features, additional themes, and much more. Your device is kept up-to-date and evolves with your evolving needs. 
All i3-Technologies displays can be managed via i3RDM - a cloud platform that allows IT managers to monitor and configure all displays remotely, from anywhere at any time. It means fewer problems, lower maintenance, and that the investment is always worthwhile. 
i3SIXTY 2
A new spin on the digital flipchart.
i3SIXTY 2 is the next generation of our original i3SIXTY and a new spin on the interactive digital flipchart. Minimize clutter and maximize collaboration, whether you are in breakout groups or in a small space, roll the i3SIXTY where and when you need it.
The i3SIXTY 2 empowers small groups to achieve big results, offering a 90-degree screen rotation, rotation supported (optional) camera, and ultra-precise writing experience.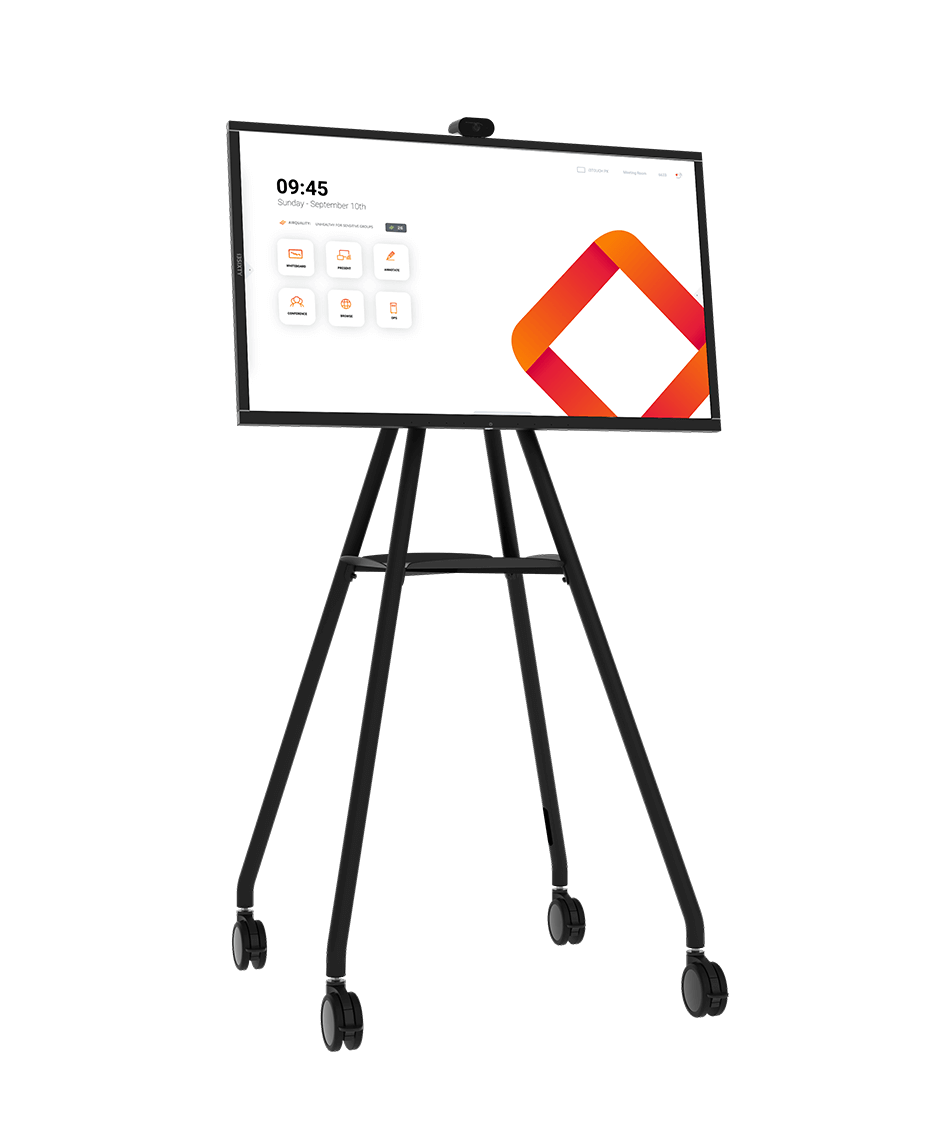 Features Specific to i3SIXTY 2
In-Cell touch technology
The i3SIXTY 2 uses In-Cell capacitive touch technology, giving you premium clarity and an ultra-responsive writing experience. The same touch you know and love from your mobile device is now available for your digital flipchart.
Small but Mighty
The i3SIXTY is available in 43" and can fit into any classroom or meeting room, making it easy to minimize clutter and maximize space.
90° screen rotation
Toggle between landscape and portrait mode to optimally accommodate different types of content on your digital flipchart.
Rotation Supported Camera
Maximize your screen real estate - With i3SIXTY you can choose the appropriate orientation – portrait or landscape providing you the optimal screen real estate during a video conference.
Mobile Stand
Turn any area into a collaborative workspace with the wheeled, mobile stand. Easily fit the display through any door and into any classroom or meeting room.
Better Sound
With the 8 built-in microphone arrays, including omnidirectional pickup to 7 meters, nobody will be out of reach. Thanks to the noise suppression algorithm voices will be crisp and clear.
i3TOUCH E-ONE
Experience Ultimate Value.
The i3TOUCH E-ONE delivers durability, and an all-in-one integrated experience for an incredible value. Running on Android 11 and preloaded with all the interactive essentials you need – whiteboard, annotate, present, browsing, and video conferencing – the i3TOUCH E-ONE is a powerful asset for your classroom or office.
Features specific to i3TOUCH E-ONE
High-precision IR Technology
The i3TOUCH E-ONE includes an improved IR technology with a more precise and accurate touch, up to 30% more accurate than regular IR, and improved object recognition.
Multi-function Button
Define your favorite shortcut actions on a hardware button. You can set it to freeze the image, take a screenshot, switch to your preferred video input source, etc.
Integrated speakers
The integrated audio system pumps out loud and full-bodied sound that is capable of filling a whole room.
Easy Input
Enjoy the freedom of connectivity with the frontal USB-C and HDMI input slots.
The new IFPs in the lineup give the user true flexibility with how and where they want to meet, collaborate or teach. Whether you want a powerful, static, wall-mounted device or one that can be ready at an instant for a breakout group, the new range has so much to offer.
"With the end-to-end solutions from i3-Technologies, we not only bring people together but by improving the user experience, we also increase the efficiency of organizations, which are therefore able to achieve their goals," says Lars Van Sweevelt, Director of Product Development and Marketing at i3-Technologies. "With the upgrade of our entire i3TOUCH range, from entry-level to flagship, all displays are running Android 11, bringing all displays to the latest version of the i3STUDIO software suite, which provides enhanced collaboration, productivity, and remote management capabilities. The intuitive user interface provides an excellent user experience."
Learn More About the New Product Lineup
To learn more about the new product range you can check out the video below from our YouTube Channel.
---