How to Build a Digital Culture for Successful Digital Transformation
Is your workforce ready for the future? Does your culture empower everyone in the organization to embrace digital transformation? Here are several ways through which organizations can build a thriving digital culture.
In the corporate world, while a successful digital transformation is necessary, culture is key to driving this digital transformation.
Embedding new ways of thinking and collaboration is essential to adopting the digital revolution. While digital transformation implies facing some challenges, like scarce cooperation, limited resources, and poor customer relations, culture remains the number one barrier to digital transformation.

Cultivation of an adequate digital culture needs to be an integral part of running a successful business or organization. Creating a digital culture that makes sure members of organizations get rid of restrictive mentalities and push for new behaviors is paramount.
Here are several ways through which organizations can build a thriving digital culture:
• Define your organization's digital values.
• Use technology
• Perfect your processes.
• Enable your people
• Align your organization with your values
1. Define your organization's digital values
It is essential to understand that digital culture is more than just technology. It's a mindset, a set of beliefs, a way of life. It's the values and identity that need to be imbibed by the members at all levels of the organization.
Once these values have been identified, they will guide the organization's culture because they express what is most important in carrying out the goal, strategy, and industry objectives.

We can do better if we are more open to collaborations, connections, adaptations, transparency, and flexibility.
There's no one-size-fits-all because the objectives of each organization are diverse, and everyone adopts the digital culture that fits into their unique values.
You should consider what your organization's values are and match them with important digital qualities your team should be acting according to.
2. Use technology
Success in digital culture is attained through more collaborative work and effective communication across various levels, units, and functions of the organization.
The frequency and speed of digital work call for a higher level of transparency and communication; hence, the need for upgraded tools.

First off, consider the BYOD (Bring Your Own Device) policy. More especially in smaller companies, it allows the workforce to use devices that suit their work style and convenience. This leads to increased adoption and flexibility among employees.

Also, when team members take pleasure in working together, the workflow improves significantly. If they don't, it causes low output. This can only be improved on with tools that encourage teamwork. Letting other teammates in on insights is vital to a productive and effective digital culture.
Therefore, adopting technologies that foster collaboration and connection among people in diverse locations is essential. All in all, finding the right balance between accessibility and privacy, openness, and security is imperative.
3. Perfect your processes
There's a need to adopt more agile and innovative ways of working. In a technology-driven world, there is no way around being creative because, in a highly competitive environment, it is probably the biggest differentiator which sets different organizations apart.

The plan should be to teach a risk-taking and tactical attitude in the organization and its members, exploring new ideas, trying out new technologies and processes, learning from errors, and adopting new results.

Data drives (and will continue to drive) the current world we live in. For that reason, cultivating a data-driven culture in all you do is essential.
Not relying on subjective opinion, keeping records, and measuring up all parameters to match up against business objectives and financial outcomes are very effective ways of perfecting processes.
4. Enable your people
Enabling members of your organization to imbibe digital culture is crucial. This can be done through various processes, such as through training.

Zero or ineffective training cost companies a lot. The best way to ensure that employees have at least a basic knowledge (depending on the type of business and the level of technological influence on the industry) of the digital world, is to offer a development package that caters to all levels and roles.

Companies should organize formal training in modern technologies, digital procedures, and thought processes. Also, facilitating continuous learning and engaging employees would help promote digital culture and ultimately, the organization's output.

Another means of enabling employees is through empowerment. Giving employees flexibility in work hours, location, and performance helps them work better.
This will most definitely have a favorable effect on a growing digital culture because it allows employees to work according to conditions that are convenient for them.
More to the point, being in a suitable environment is a great way to develop a unified culture amongst workers in an organization.
5. Align your organization with your values
It is essential that you ensure your organization is in alignment with your digital values. It is one thing to identify your digital values; it is another to follow through with them as an organization. It is one thing to take on innovation; it is also another thing to capitalize on the opportunities that the change brings.

The culture of your organization will underpin your success. Digital transformation is here to stay and will continue to evolve. It is then essential that an organization's culture continues to grow alongside digital technology.
By aligning big ideas with big goals, and at the same time having a digital transformation in mind, a proper digital culture that will take the organization to the next level will be underway.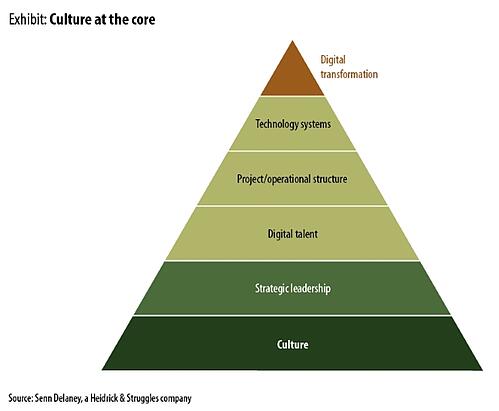 Digital transformation is taking over the business and corporate world at the moment. Companies and their front-runners have recognized the influence that it has. As a consequence they have and will continue to transition to it.

Although culture clash is the leading barrier to digital transformation, it can be controlled and made into a positive instrument of development. It is worth reiterating that digital culture is not all about technology, but also the products, services, mindset, and means of achieving set goals.

Nevertheless, technology is still an essential part of the required elements. It is necessary to take advantage of the opportunities that digital technology offers by using collaborative and result-oriented tools. i3-Technologies can set you up with the right tools for your digital culture.
---