Harnessing The Power of Interactive All-In-One Collaboration Solutions
Written by Lisandro Nunez
Thursday, April 20, 2023
In the new world of hybrid working and learning, organisations are increasingly challenged to enable teams to collaborate and communicate more effectively to achieve success. 
However, many are quickly learning that traditional collaboration solutions (such as flipcharts, dry-erase whiteboards, and projectors) are no longer able to support the hybrid world of today. That's where all-in-one (AIO) collaboration systems come to the rescue and help to fill the gap. 
So, what is an interactive AIO collaboration system?
An interactive, all-in-one (AIO) collaboration system is an integrated, audio-visual solution enabling teams to present, meet, and collaborate more effectively—whether in the same room or remotely. 
This powerful combination of hardware and software can include the following:  
a high-resolution, interactive display,

 

a microphone,

 

a mobile stand,

 

collaboration/productivity software applications.

 
Why should organisations consider implementing interactive AIO collaboration systems?
There are five key reasons organisations should at least consider deploying these AIO systems. 
1. Increase engagement and meeting equity.
The first benefit of interactive AIO systems is increasing team engagement and promoting meeting equity. 
Interactive AIO systems can make meetings and discussions more engaging by allowing team members to interact directly with content with the power of touch and gestures. This interaction not only promotes more active participation but also creates a more engaging team dynamic. 
In hybrid meetings, built-in features like digital whiteboarding, annotation, and wireless screen sharing enable individuals to better contribute ideas and insights in real-time, regardless of location. These features support users to have an equal opportunity to participate and collaborate—whether they're situated in the same room or are participating remotely. 
2. Boost productivity
Organisations that adopt interactive AIO systems also empower teams with the tools they need to present, meet, and collaborate more effectively. The process of getting up and running is also super simple: 
completing the setup process, 
plugging the system into a power socket, and 
connecting to Wi-Fi to access the internet. 
These simple steps make it easy for teams to focus on tackling their tasks (not worrying about how to use the technology). 
AIO systems are an excellent tool for digital transformation initiatives as they natively support the presentation, manipulation, and sharing of digital content. Being on wheels also makes it easy to move the system freely between meeting rooms or other workspaces—the tool adapts to where and when users want to work, not the other way around. 
3. Support multiple workflows
Most of us are accustomed to having seen displays used in landscape (horizontal) mode, but did you know that having the ability to switch between landscape and portrait mode can help teams better visualize and work with some forms of content? 
Here are just a couple of examples of scenarios illustrating how using an interactive, all-in-one system in portrait mode can be extremely valuable for some members of your team. 
Document editing and review: Working with long documents such as PDFs, contracts, and reports provides a more natural reading experience to effectively review, edit, and provide feedback on the document. 
Mobile app development: Designing and testing mobile apps in portrait mode can help team members identify potential design issues and optimize the user experience. 
Social media management: Reviewing and creating content specifically designed for platforms like Instagram Stories or TikTok, primarily viewed in portrait orientation. 
Website design: Preview websites to simulate the appearance and functionality on mobile devices to identify potential issues and ensure a seamless user experience for visitors. 
It's easy to see how these scenarios, and others, can better support some workflows by working in portrait mode. Still, the ideal scenario is when users can easily switch between portrait and landscape in seconds, like they can work the i3SIXTY 2 and i3SIXTY Pro.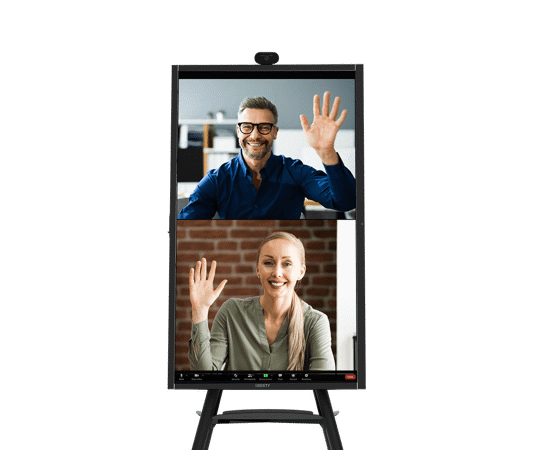 4. Reduce costs
The implementation of interactive AIO systems can help organisations to reduce costs.  
First, having a single, all-in-one solution with integrated components can dramatically reduce costs compared to purchasing separate components and trying to put together a comparable solution. 
The second typical cost-saving results from reducing installation costs as interactive AIO systems (being mobile) do not need to be mounted on a wall. Placing collaboration systems on a wall usually results in several unforeseen costs—ranging from site surveys to reinforcing wall structures and electrical work. Mobile solutions eliminate these costs as they simply need plugged into the closest electrical socket. 
Another important cost reduction is not locking investments into a single meeting room. Having the freedom to move an AIO system between spaces makes it easy to equip practically any room with audio, video, and digital content capabilities when and where needed. One example that illustrates this well is Glovo, a leading Spanish, on-demand courier service, which leverages the i3SIXTY AIO system to facilitate video conferencing and digital whiteboarding. Learn more by viewing this case study. 
5. Simplify adoption and device management.
The 'fully integrated' nature of interactive AIO systems naturally makes it easier for organisations to adopt, manage, and support them. 
A well-designed interactive AIO system offers an intuitive user interface that allows users to start using the system in a few short minutes—without the need for formal training. Being able to easily share content wirelessly or via a single USB-C cable from a personal device also helps to drive user adoption. 
Managing interactive AIO systems is also welcomed by IT leaders because the hardware and software components are all designed and supported by a single manufacturer. This integration dramatically reduces potential incompatibilities between components that can occur when assembling a do-it-yourself type of approach where components are sourced from different manufacturers. 
Finally, organisations can add optional remote device management (RDM) software to quickly deploy, manage, and support an entire fleet of AIO systems, whether installed in one location or across multiple locations throughout the globe. 
6. Improve performance with creativity and innovation
Organisations can also leverage interactive AIO systems to promote creativity and innovation to improve performance in several ways. 
One example is complementing existing in-room displays and projectors using an interactive AIO system as a digital flipchart to capture notes, brainstorm, and share digital content. This system can help teams to generate more ideas and collaborate more effectively—mainly if the existing main display is not interactive. 
Another way to promote creativity and innovation is to transform larger, open spaces into multi-purpose, flexible spaces that allow teams to work on various use cases. The University of Tennessee, for example, used the i3SIXTY interactive AIO system as a digital flipchart in large and smaller breakout groups in this case study. 
Lastly, organisations can add a signage service, enabling those AIOs as a digital signage and communications solution offered by providers like Zebrix. Using Zebrix digital signage on interactive AIO systems from i3-Technologies enables organisations to share customizable announcements, upcoming events, emergency messages, and school- or company-wide information. The onboard motion sensor of the display will detect when the interactive display is no longer being used and will then automatically start the digital signage application. 
Conclusion
In summary, interactive AIO collaboration systems are a powerful tool offering many benefits that any organisation seeking to improve team communication, collaboration, and performance should consider taking advantage of. 
Watch the video below to learn about the i3SIXTY 2 and i3SIXTY Pro interactive AIO collaboration systems. More importantly, experience these systems for yourself with a live demonstration offered by one of our valued channel partners by requesting a demo here. 
---