Boost Team Performance: 7 Compelling Reasons Why All Meeting Spaces Should Include Interactive Displays
Written by Lisandro Nunez
Monday, May 8, 2023
Introduction
Advancements in technology and evolving business requirements are reshaping the workplace and meeting spaces in particular. Interactive displays (once considered a nice-to-have resource) are becoming an essential collaboration tool for high-performing teams. This post will cover seven reasons business leaders will soon incorporate interactive displays into all meeting spaces.
1. Support New Ways of Working
The concept of what a 'workplace' is has undergone a significant shift in definition, with remote and hybrid work now becoming the new norm for many. Interactive displays help bridge the gap between in-office and remote team members, facilitating seamless communication and collaboration.
By incorporating interactive displays in your meeting spaces, organizations enable all participants to engage with content, annotate, and share ideas in real time, creating a more cohesive experience.
Zeeman, a leading Dutch retailer, is an excellent example of how industry-leading organizations are optimizing the workplace by leveraging interactive displays and Microsoft Teams to meet more effectively with employees, retailers, and suppliers.
2. Improve Productivity and Efficiency
Interactive displays can help to make meetings run more efficiently and allow participants to more easily share their ideas—all of which can positively impact business performance.
For example, teams can save time by reducing the need to take handwritten notes, eliminate the need to plug in physical cables by sharing information wirelessly, and more efficiently distribute content following meetings via e-mail.
Visualizing content on a large, interactive display (especially compared to traditional meeting rooms equipped with only a flipchart or whiteboard) can also help teams to review information, identify trends and patterns, and identify opportunities for improvement.
The Zeeman video case study also highlighted how interactive displays, coupled with Microsoft Teams, not only help make meetings start on time but also facilitate the sharing of meeting notes and other digital content.
3. Integrate with Your Existing Technology
Interactive displays integrate seamlessly with your organization's technology stack as they're interoperable with most:
office applications (such as Microsoft Office and Google Workspace),
video conferencing platforms (such as Microsoft Teams, Zoom, and Google Meet),
visual collaboration tools (such as Miro and Mural), and
much more!
This interoperability allows your team to transition smoothly from one task to another without delays or interruptions, ultimately keeping your meetings and workflows running smoothly.
Use interactive displays to easily access and open your files, make changes, and conduct meetings without technical hiccups or delays.
4. Encourage Innovation and Active Collaboration
Successful organizations thrive on innovation and collaboration, and interactive displays support the creation of environments for teams to work together, brainstorm, and bring ideas to life.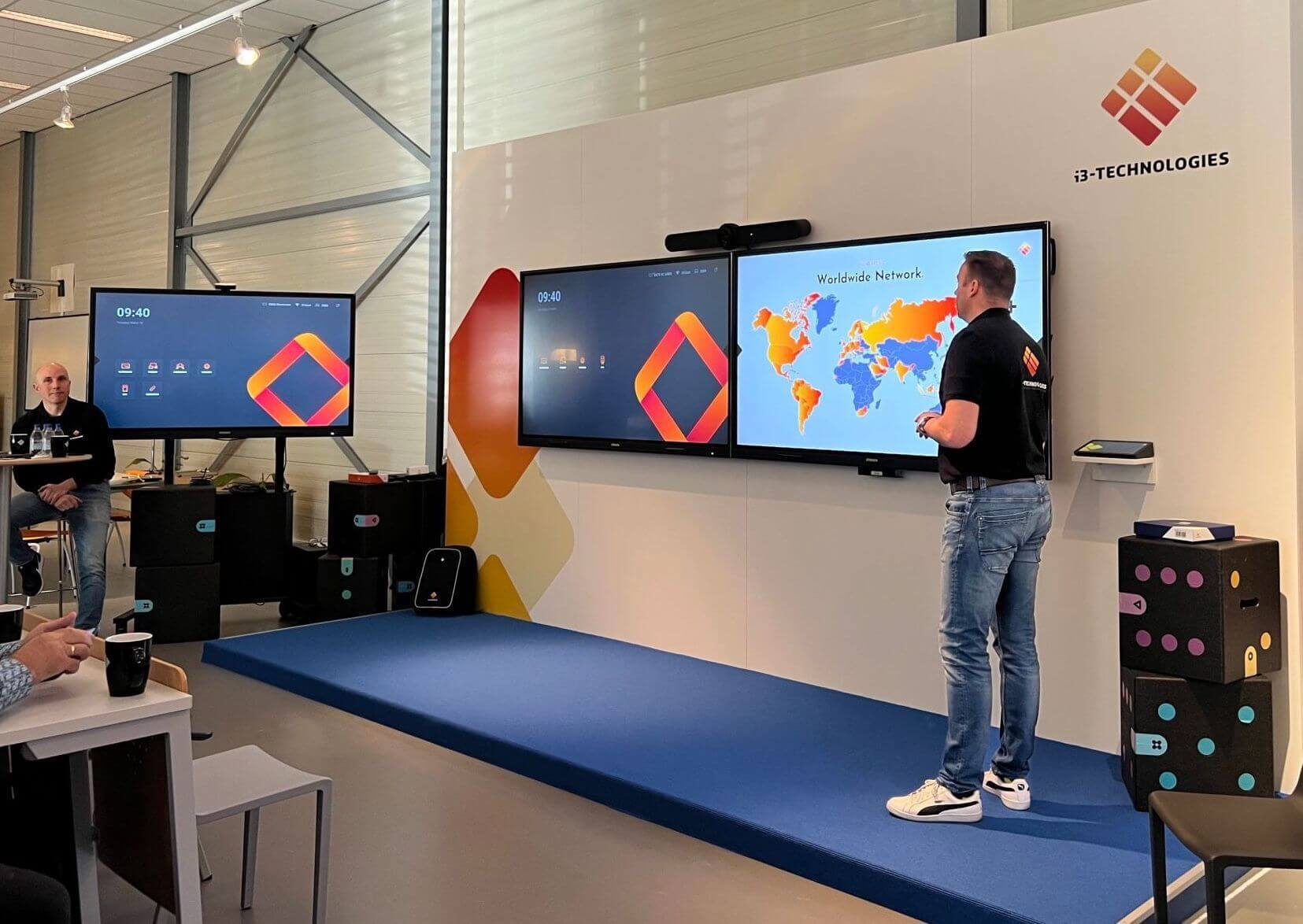 Visualizing and manipulating data helps teams identify new opportunities and solve problems more effectively. In addition, the multi-touch capabilities of interactive displays enable multiple users to collaborate on one or multiple interactive displays at a time—which promotes team communication and active collaboration.
5. Improve Decision-making
Business leaders are responsible for making strategic decisions that shape the future of their organizations. Learning that interactive displays can improve decision-making by using them in conjunction with data visualization and analytics tools will be welcome news.
Using these tools to present complex data in a visual and simplified format empowers teams to make informed decisions. The collaborative nature of interactive displays also encourages open discussions so all perspectives can be heard and considered as part of the decision-making process.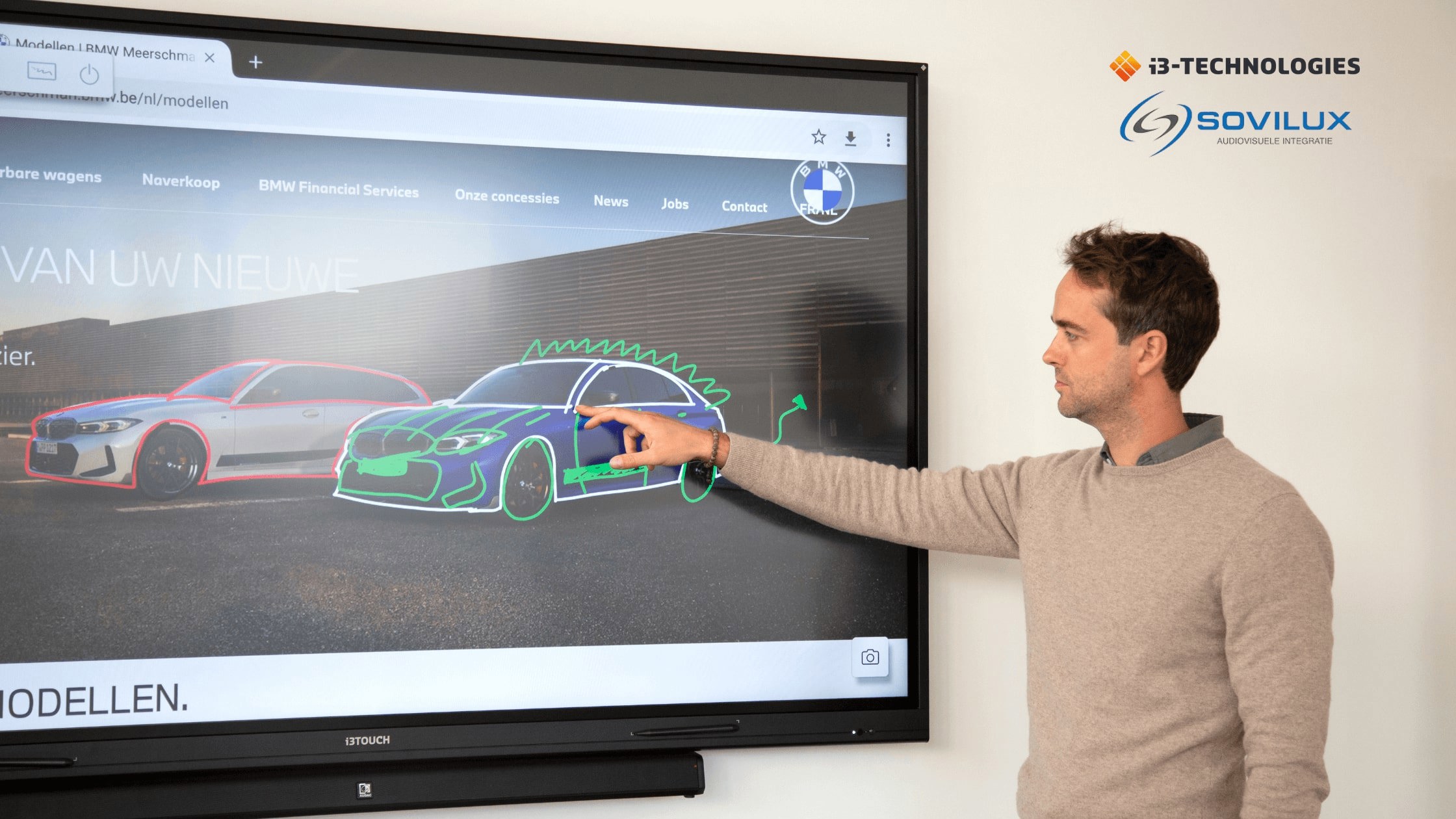 To illustrate this example with a case study, BMW – MINI Meerschman uses interactive displays for whiteboarding, wireless presenting, and video conferencing. They also use them to engage with their customers. Seeing important information visually on a large display helps customers decide on their next purchase more effectively.
6. Future-proof Your Investment
Organizations that take the strategic decision to invest in interactive displays benefit from the results for several years. Interactive displays are designed to be interoperable and platform agnostic, which increases the likelihood that they will also be compatible with new technologies and platforms as they emerge.
Moreover, interactive displays often come with regular software updates and launch new features continuously. These updates and new features maximize the ROI on your investment (as the capabilities of the interactive displays increase over time) and ensure that your teams can effectively collaborate and communicate as technology continues to evolve.
7. Inspire Meeting Equity and Company Culture
CEO and other leaders will also appreciate how interactive displays can support a culture of inclusivity by ensuring that all participants, regardless of their location or role, have an equal opportunity to contribute during meetings.
This contribution encourages sharing of diverse perspectives, which is crucial for driving innovation and growth. In addition, the higher level of engagement resulting from effectively using interactive displays can help to create a positive atmosphere—boosting team motivation and enthusiasm.
Conclusion
For business leaders, staying ahead of the curve and leveraging the latest technologies to drive their organizations forward is essential. Interactive displays have become an indispensable tool for modern businesses, enabling better communication, collaboration, and decision—and I hope that these seven reasons have highlighted some compelling reasons why interactive displays can help to boost team performance.
---