Take collaboration to new lengths with the newest i3TOUCH ULTRA interactive display from i3-Technologies.
Written by i3-Technologies
Monday, January 30, 2023
Barcelona, Spain, January 2023 - i3-Technologies engineers interactive solutions to empower professionals to achieve more. Our range of interactive displays, together with simple yet powerful software and accessories, give you the flexibility to set up intelligent workspaces that work best for your team, school, or organization. From interactive displays to air quality sensors, to cloud-based educational software, we are a trusted advisor for technology integration in schools and organizations across the globe. All our solutions are easy to use, integrate, and designed with our customers in mind. 
Expanding the i3TOUCH range
This year at the Integrated Systems Europe (ISE) Show in Barcelona, we are again broadening our product portfolio to cover more needs and different spaces. We will also introduce new sizes in our existing lineup, to better serve a range of room sizes.
The i3TOUCH E-ONE was successfully launched in 2022 and delivers durability and an all-in-one integrated experience at a unique price point. Like all our i3TOUCH interactive displays, the i3TOUCH E-ONE is preloaded with all the interactive essentials you need – whiteboard, annotate, present, browsing, and video conferencing. The E-ONE is a powerful asset for your classroom or office which is why we decided to expand the range of sizes. The E-ONE will now come in four sizes: 55", 65", 75", and 86". With the newest addition of the 55", we aim to serve customers who have smaller spaces and budgets.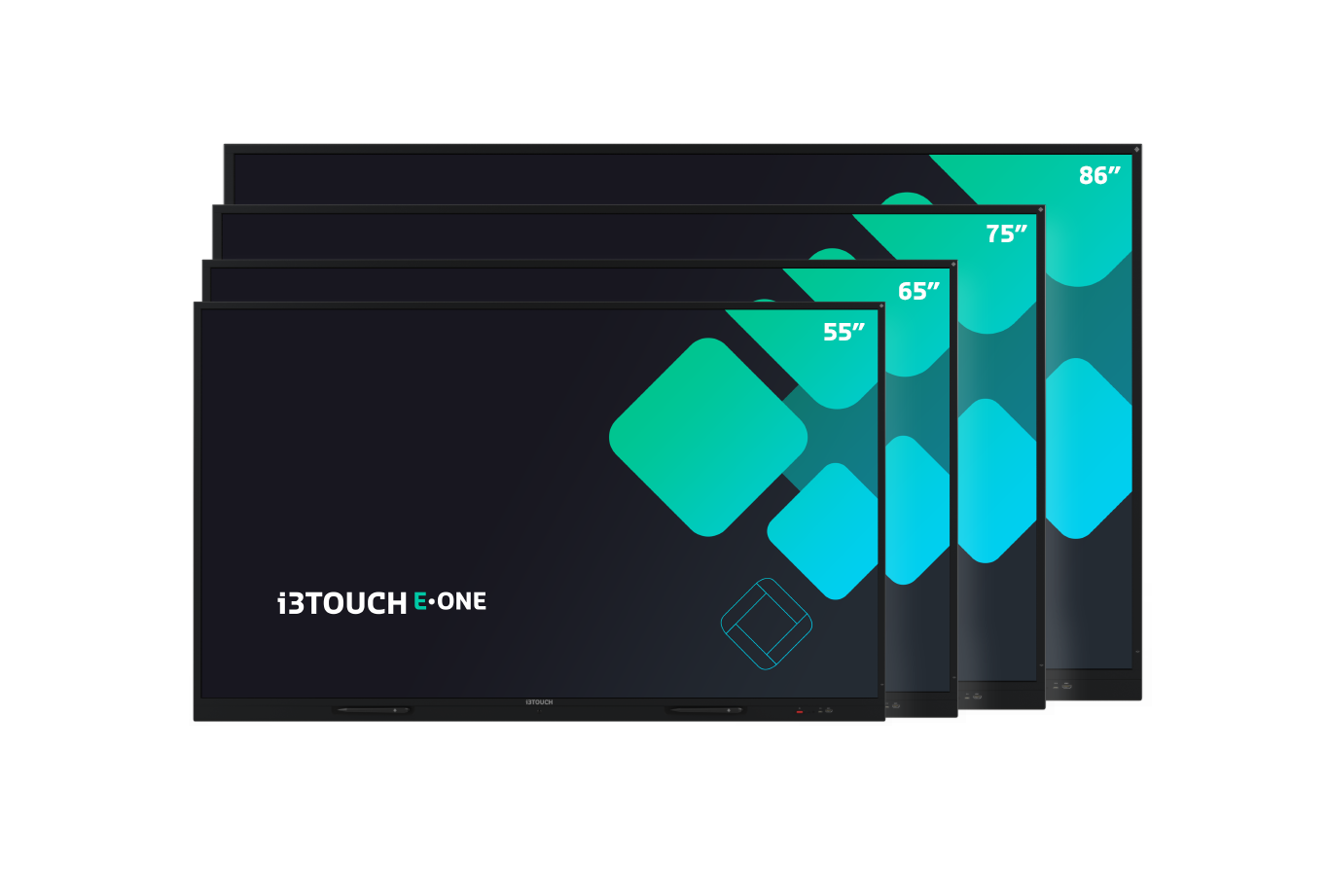 Introducing the i3TOUCH ULTRA
To better provide for larger spaces, different kinds of workflows and better video conferencing, we are excited to announce the launch of the i3TOUCH ULTRA. The i3TOUCH ULTRA is our 105" ultra-wide, 21:9 interactive display giving users the ability to analyze, visualize, and interact with big data and complex topics and split the screen to work on multiple tasks. Bring everyone together with immersive video conferencing and presenting capabilities using the ULTRA.
Immersive videoconferencing and collaboration
The ultra-wide aspect ratio of 21:9 of the i3TOUCH Ultra provides an immersive experience for hybrid meetings. ULTRA is ready for Microsoft Teams Rooms and Zoom Rooms and allows colleagues to use video conferencing tools like Front Row while still having plenty of space to share content and collaborate. This new aspect ratio and size improves the virtual meeting experience (when installed correctly and used with appropriate conferencing tools like MS Teams or Zoom Rooms), achieving meeting equity for all participants and giving a greater sense of connection between remote and physical participants. Everyone is seen, heard, and represented, whether they are in the room or in a different time zone.
More Space for Big Ideas
Let users share ideas, create content, and interact with the i3TOUCH ULTRA – by whiteboarding, highlighting, and editing. An ultra-wide display means more space for visual collaboration. There's no need to crouch down or overreach to interact with the display (such as in a 16:9 ratio). Start a sprint, review a retrospective, or go wild with a brainstorming session. The ULTRA lets users walk, talk and annotate while presenting and never run out of room. The 21:9 aspect ratio is much more practical screen real estate, which is much more suited to support various workflows. All people (short and tall) will be able to reach every location of the display during interactive sessions.
Specific Features to the i3TOUCH ULTRA
Ultra-Wide Aspect Ratio: With its ultra-wide 21:9 screen ratio, the i3TOUCH Ultra displays 33% more content than a standard 16:9 display.
5K Resolution: Hyper-detailed image quality and detail with a 5K resolution and anti-glare glass.
Accurate Touch Experience: Optical bonding delivers fast detection to provide the most reliable and natural touch experience possible.
Durability by design: Optical bonding makes ULTRA resistant to scratches, fluids, stains, and dirt. A display that was built to last.
Capacitive Touch: The capacitive touch technology creates a very responsive and natural touch experience with a sleek, stylish design.
Improved contrast and wider angles: Due to the unique aspect ratio and optical bonding technology, ULTRA delivers perfect picture quality in larger spaces no matter where you're sitting. Crowded meeting room or students sitting far away? Everyone will still be able to see the screen without reflections.
Strong Craftsmanship: The ultra-slim bezel and glossy accents along with the sturdy craftsmanship create a pleasing high-end aesthetic.
OPS Slot: A slot for OPS pluggable modules allows for a dedicated computer to be connected to the display with no visible cables.
Be the first to see the i3TOUCH ULTRA in action at ISE Show in Barcelona from January 31st – February 3rd, 2023, at booth #2Q425.
---