Interactive Screens for Education: The how, why, and what you need to know!
Written by Mark Anderson
Monday, January 3, 2022
It is fair to say that technology adoption in education has had a bumpy ride in its lifetime. In this article, expect to learn how thinking has developed in recent years and consider the approaches before implementing technology. Interactive Screens for Education have developed massively in recent years. They provide many affordances for learning, engagement, and activity in the classroom.
Implementing Technology in the Classroom
Over the years, it has been recognized that some of the issues faced by interactive whiteboard rollouts were far more about failures of implementation than the technology itself. The thinking around pedagogy, considering use before implementation, and the quality training around their use have moved on massively. This has been reinforced numerous times, such as in the following report from the Education Endowment Foundation in 2019.
"Two overarching messages relate to the importance of pedagogy and implementation. First, teachers need to understand how the technology will improve their teaching in order for them to be effective; once more, the pedagogy is more important than the equipment." – USING DIGITAL TECHNOLOGY TO IMPROVE LEARNING – Guidance Report, March 2019, Education Endowment Foundation
Interactive screens for education are too important (and expensive) to leave to chance
As I often share; technology in education is too important to leave to chance, and with that in mind, plus the Bananarama principle in that "It isn't [so much] what you do, it's the way that you do it – and that's what gets results" implementation, the ongoing thinking around the pedagogy of using technology in education has never been more important.
Given the situation, we find ourselves in now with the pandemic and the need for quality technology to support a diverse range of scenarios, from in-class, to hybrid, blended and remote – teachers have had to develop their skills in using technology in education quickly at scale.
What does this have to do with interactive screens for education, and how does it relate to you?
As reinforced by the report shared above, careful thinking and consideration about best practice, the types of activities that will be impactful, and linking this to the curriculum so that processes and activities are both impactful and that teachers can be trained effectively in their use is most likely to yield results.
"Introducing a new form of technology will not automatically change the way teachers teach. The introduction of interactive whiteboards provides an example that highlights the need to consider the pedagogical rationale for adopting a form of technology, and for carefully planning the training required to enable teachers to use it effectively." – USING DIGITAL TECHNOLOGY TO IMPROVE LEARNING – Guidance Report, March 2019, Education Endowment Foundation
Like many with responsibility for technology in a school, this is relevant to you, as it should inform your thinking before making any technology purchases. You can also read about on Interactive Screens for Schools.
What rationale should you consider with interactive screens?
As shared in the EEF report and by others[1], technology implementation requires careful consideration of how technology will improve teaching and learning before introducing it. The same is true with interactive screens for education.
This can be done in a variety of ways, but best practice would ask you to consider:
the intended outcomes of the implementation
the intended improvements to the attainment
how any intended improvements will be gained
what initial and ongoing training required will be
what time and ongoing support will be required
the cost of implementation and any potential ongoing costs
A good starting point would be to look at what issues you are facing in the classroom and how exploring the technology could help with that.
How can interactive screens help within the classroom?
Another good rationale to consider when thinking about how you might use interactive screens would be to think critically about how they can help within the classroom. Of course, teachers will need a display unit in the classroom for learners to see the content that teachers wish to share. Usually, this happens from a teacher device placed somewhere close to the front of the classroom.
Often the display units, whether a screen or interactive screen, will be connected using an HDMI lead. However, an often-requested activity is an ability for students to share things with the rest of the class from their own devices. Interactive screens like those on offer from i3-Technologies have mirroring and casting capabilities.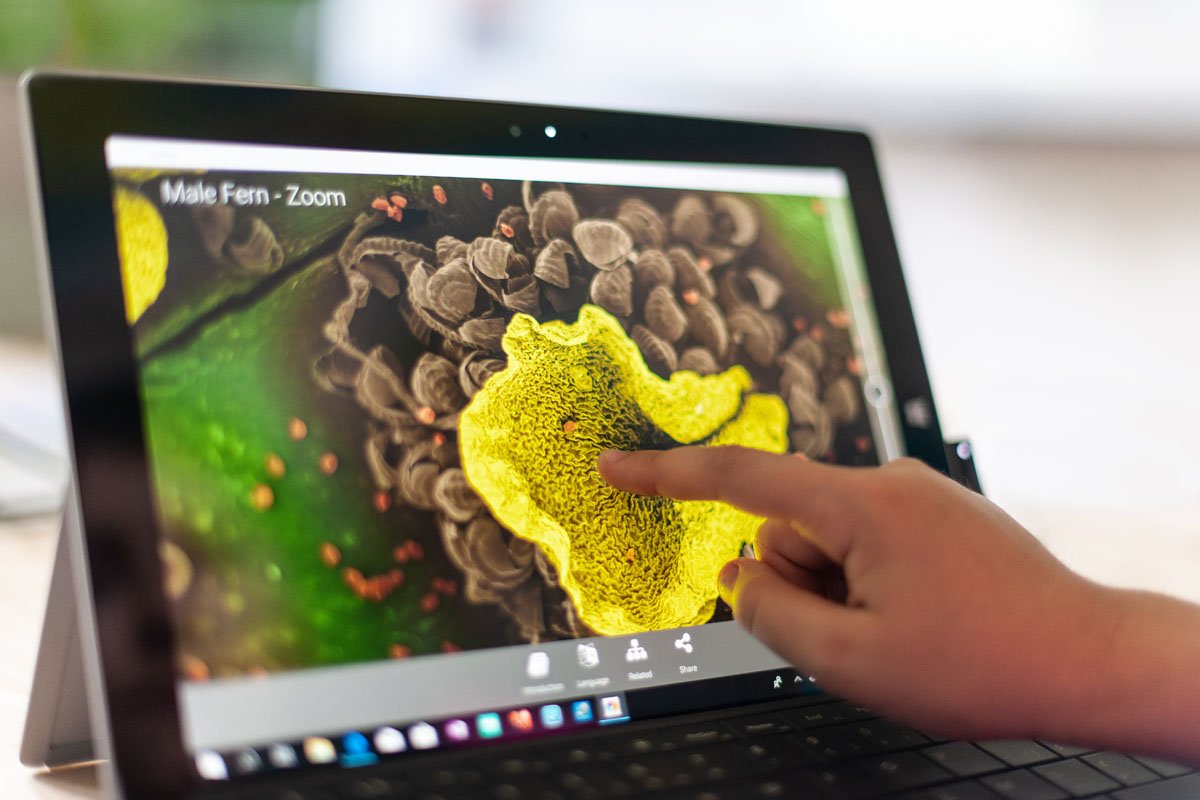 Why interactive touch screens for classrooms?
If the reasons shared above aren't compelling enough, there are plenty more reasons why you should consider having an interactive screen in your classroom.
Add to the mix that interactive screens enable your learners to be more active within the classroom (if current health and safety regulations allow). They also allow you to facilitate many helpful activities when sharing with your class.
The classroom landscape has changed massively in the last two years. As luck would have it, Interactive screens are super-useful in both blended and hybrid classrooms, and in particular remote learning scenarios.
The fact that as an educator who may have children joining both in the classroom and remotely means that by using an interactive screen, you can easily work at the screen, interact with manipulatives, live annotate, scribe, all being done while being able to be seen by children in your classroom and by those joining remotely.
The functionality built into interactive screens is super-helpful for addressing three impactful ways of using technology in the classroom, as highlighted by the Education Endowment Foundation mentioned above.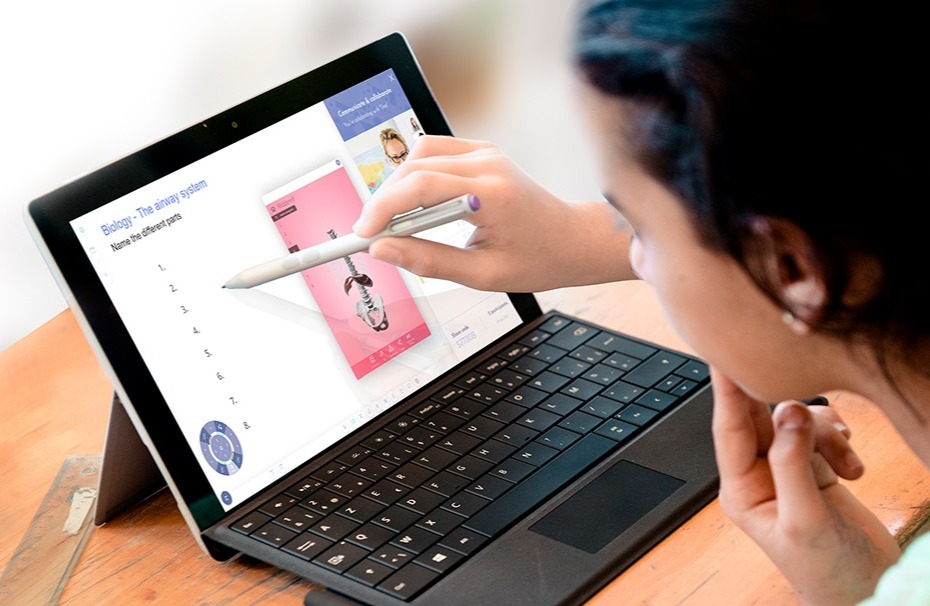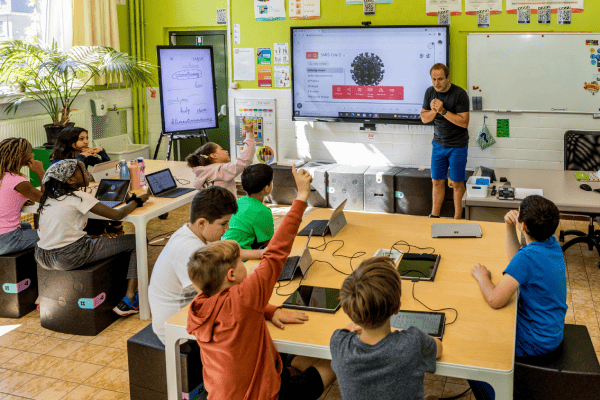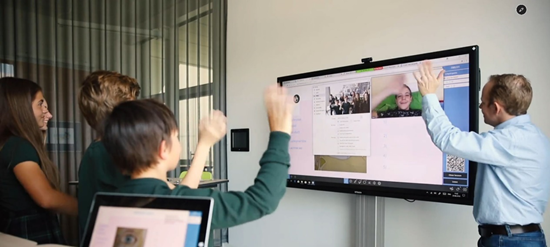 How can I learn more about Interactive Screens for Education?
If all of this sounds interesting to you, then please do check out our resources on our education solutions, or please reach out and get in touch with us directly via our contact page on our website.
---