Now that we're entering a new decade, keeping up with the latest developments in technology has become even more challenging. In an educational context, we've previously talked about how to Bring Augmented Reality to Your Classroom, but there is another aspect educators must consider: virtual reality (VR).
This form of technology allows users to step inside a digital simulation, enabling them to immerse themselves in a three-dimensional world. A discussion on Pain Free Working examining the uses of VR indicates that it's been used in hospitals to help patients dealing with pain, and even for art therapy to treat certain disorders such as depression according to an article by Forbes.

Moreover, Study International claims that VR tech is becoming more and more popular in schools, making it a more affordable investment in the long-run. For students, it gives them the ability to go beyond standard textbooks and illustrations to help further their learning. Certain tools even enable them to visit cultural sites from across the world or travel back in time — all from the comfort of their own classrooms. 
How can VR be used in education?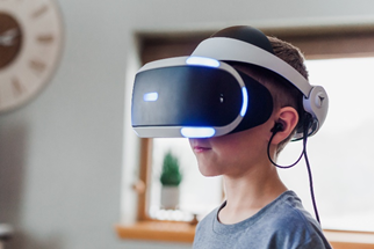 Enhance learning for students of all ages
VR can benefit a large range of age groups. For pre-school students, for instance, virtual reality can aid in the development of their social skills. Creative storytelling applications can help them develop their range of vocabulary and give them a better understanding of sentence structure. If a child is interested in the workings of the human body or the anatomy of dinosaurs, VR guides their imagination and further fosters their passion.
For elementary students, VR can help improve retention and deepen engagement through its immersive nature. This is especially useful for students who may have difficulty paying attention to traditional class lectures.
For more mature students pursuing medicine, research by Stanford University has found that the empathic response triggered by an elderly patient in a 360-degree video is much more powerful compared to reading text from case studies. This can have a significant effect on a medical student's learning, altering their perspectives in the future.


Help students cope with disabilities

For students with physical or social disabilities, the average school environment can be highly challenging to cope with. However, virtual reality can help them cope with some of this discomfort. For instance, The Hechinger Report explores how students in a video production class aim to create a virtual tour of the middle school. Their goal is to give new students the opportunity to tour their future school in advance, in a low-stress environment like their home.
Other applications include touring nearby establishments such as shops downtown, to help students prepare for independent living in the future. In addition, VR can also help some students learn how to interact with police officers and other authority figures.
According to one study, approximately 20 percent of young people with autism spectrum disorders have been stopped and questioned by police by age 21, which can be highly traumatic. VR can help make social situations like these less traumatizing.



Endless other possibilities

Apart from the various applications we explored above, VR can also be used for a myriad of other educational aspects — the possibilities are simply endless. From virtual tutoring in online classrooms to art education through virtual galleries and museums, VR will take your school into the future.
Students who can avail of the opportunity to explore their various interests in a VR setting are more likely to absorb topic material and form deeper cognitive associations. With these proven results in mind, VR should be the number one priority for schools considering new technologies.
---
Written by: Stephanie Colson on Tuesday, June 15, 2021