It's the twenty-first century and remote working has truly transformed the modern workplace. A younger generation of employees seek more work-life balance, which includes working remotely from home. This trend puts pressure on businesses to create environments that maximize creativity and collaboration for when those workers come together.
Remote working has resulted in a significant demand for co-working spaces enabled with collaboration technologies, like digital flip charts, so teams can perform effectively. The hospitality and shared real estate industry players (with providers like WeWork and Regus) are adapting quickly to meet these needs. Driving yet additional demand are businesses looking to reduce real estate operational costs and also provide flexible, meeting spaces for their employees.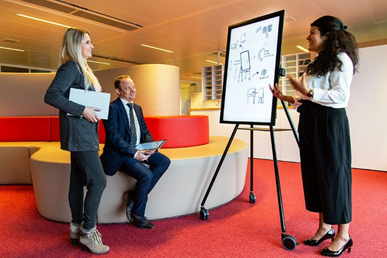 Why hospitality and co-working spaces?
Hotels and co-working providers aim to satisfy the need for these collaborative technologies to become a viable meeting alternative for a couple of reasons.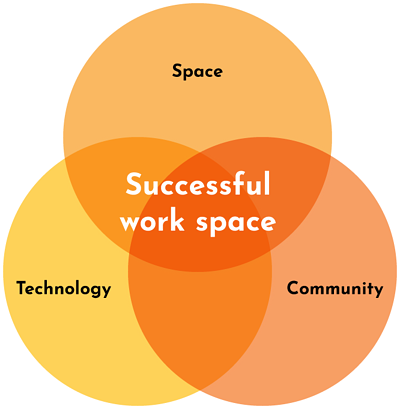 Remote workers enjoy the more informal work setting offered by hotels and shared office environments, not to mention the convenience of accessibility as they can be found practically anywhere you need one. Therefore, people may not have to go so far to find someplace to work.
For hotel and office managers, investing strategically in technology to create meeting spaces that appeal to knowledge workers can maximize the ROI—and digital flip charts may offer a low-cost investment to maximize profitability.
Collaborative technologies… a key ingredient for success
Co-working spaces, hotels and events businesses are increasingly focused on building engaging work spaces. The three factors that contribute to creating an engaging and successful work space work include the right space, technology and community.
The right space
First and foremost, people need to have the right type of work environment to meet and collaborate effectively. Considerations such as room size, furniture, lighting and other key factors play a vital role in determining work space productivity.
The right community
Whether it's having a strong company culture, an extended community of industry professionals, or a strong network of relationships with local businesses, interacting with your working community energizes workers, and having the digital tools to connect to do so is critical.
The right technology
Remote work and business-to-business collaboration become possible with collaboration technologies that enhance productive work spaces with key features such as:
Whiteboarding: Simply take notes, capture ideas and share with others.
High-performance display: Present content in rich, ultra-high (4K) resolution.
Internet connectivity: Access your local Wi-Fi network to browse the internet and access data.
Wireless presenting: Share your screen with others with no cables needed.
Web conferencing enabled: Use your preferred UC platform, like Zoom, to connect to remote participants with audio and video.
Flexible & mobile: Whether meeting independently or in group sessions, easily move the product between meeting rooms or work spaces is tremendously valuable.
The i3SIXTY digital flip chart is uniquely positioned to meet these requirements as an all-in-one solution (including integrated camera and screen sharing), providing a simple solution that meets the needs of practically any meeting participant.
What are the benefits?
There are several benefits of using a digital flip chart from i3-Technologies in your co-working spaces.
For knowledge workers the i3SIXTY offers:
an intuitive and accessible way to meet, present and collaborate,
the freedom to use as a digital flip chart (in portrait mode) or display (in landscape mode) and
the freedom to use one, or more, i3SIXTYs to best support your meeting and workflow requirements—ensuring that the technology adapts to you (and not the other way around).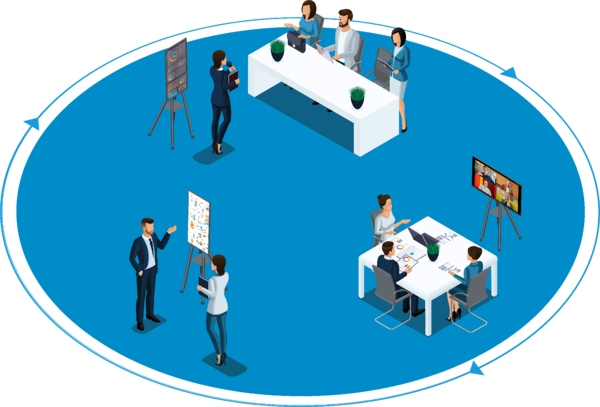 For hotel and office managers the i3SIXTY offers:
a cost-effective way to offer users with audio, video and data collaboration in a simple, all-in-one solution,
increased average room rate revenue by quickly moving one, or more, i3SIXTYs to practically any space where users can meet and collaborate and
higher customer satisfaction by better meet requirements for meeting room technology.
Experience the i3SIXTY digital flip chart for yourself
Remote working will continue to grow and co-working spaces in hotels and shared offices will become increasingly important to satisfy the trend. World-class meeting technologies, including digital flip charts like the i3SIXTY will allow those work spaces to be adequately equipped and satisfy their customers.
There is a good chance that your organization might need a i3SIXTY, you should check it out here, and try it out!
---
Written by: Lisandro Nunez on Monday, June 21, 2021