Companies are expanding globally, and as a result of persistent advancement in technology, teams are becoming more virtual. Jobs are now carried out by different persons working across offices in various locations.
Therefore, there are several challenges that these kinds of teams face because of their cross-office collaborations. Some of them include a lack of face-to-face interactions between teammates, differences in time zones, low level of bond and trust, poor team communication, inadequate tools, or the language barrier.
Proper cross-office collaboration is too vital in our daily jobs for these challenges to be ignored.
Appropriate measures have to be taken to achieve successful collaborative work and these measures can be classified into three categories: technology, productivity, and culture.
10 Ways to Improve Cross-Office Collaboration
Ways to improve cross-office collaboration:
Technology

Use collaboration tools
Use modern management tools
Use screen sharing tools
Use video conferencing tools

Productivity

Standardized work storage
Communicate often
Respect time zones

Culture

Build friendships
Connect on social media
Meet face to face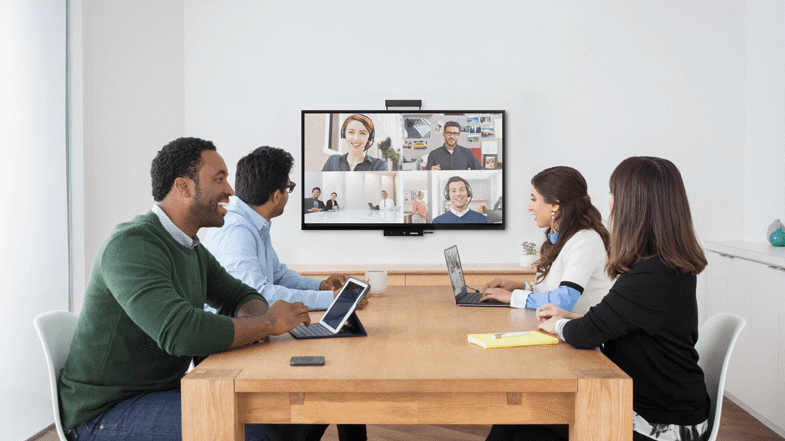 Technology
Use Collaboration Tools
As the number of people who work remotely increases rapidly, integrating conference rooms has become crucial in ensuring a better connection among co-workers to improve their chances of working efficiently together.
To bring about easy cross-office collaboration, it is essential to ensure these conference rooms are well-equipped with appropriate tools.
Tools like interactive touchscreens, all-in-one video conferencing solutions, interactive whiteboards that can be used for impromptu writing are valuable collaboration tools.
Use Modern Management Solutions
Managing teamwork, schedules, meetings, and data with modern platforms makes collaborative work a lot easier and improves transparency.
It is advisable to use a reliable work management platform like Trello, Slack, and so on, to manage and view all projects from a central place of maximum security.
A feature provided by these platforms is email integration which makes work easier and more accessible.
Use Screen Sharing Tools
The person on the other end might find it hard to grasp what you are trying to explain, or might not understand your language fluently.
To avoid miscommunication, sharing your screen so that the other person can see exactly what you are doing is vital. It is also a valuable way to make teammates feel like being an essential part of the team.
Use Video Conferencing Tools
Communicating through video allows you to see things you might otherwise miss with text-based communication.
It is more productive and usually faster. To have a productive meeting, you need to use the right tools. Zoom Rooms is an easy-to-use video conferencing software that works well for large team meetings on any operating system.
It is important to note at the same time that despite the advantages of video conferencing, there are a few things that can be pulled off without the need for video calls.
Understanding what means of communication works best for your goal is paramount.

Productivity
Standardize Work Storage
Finding a central place to store all files is essential. Not only do other people know where to find it when it is needed, but it also helps for effectiveness and transparency.
However, it is important that the work storage place is updated in real-time, so you don't have to worry about multiple or obsolete versions of files. Google Drive and Teams are standard filing systems that can be used.
Communicate Often
The importance of communication cannot be overemphasized. Finding the right communication medium that works best for the team is largely advantageous.
The size of the team and the use of common language are factors to be kept in mind at all times. Continually asking for clarity and feedback from team members need to be the norm.
When there is no effective communication, cross-office collaboration could become frustrating.
Respect Time Zones
Taking the different time zones in consideration is vital in improving collaboration at work. As simple as it may sound, some issues might arise amongst team members if appropriate measures aren't taken.
While scheduling meetings, asking for feedback, or whatever activity it is that involves team members from other locations, it is essential to always keep the time zone factor in mind.

Culture
Build Friendships
Bonding over work and a few other things that you have in common can unimaginably improve collaborative work.
Discussing hobbies, families, different origins, pet peeves, and other stuff with teammates not only eases the tension but also builds the collaborative environment. In the course of this, it is crucial to recognize, share, and respect various cultural differences that may come up.
Future collaborations may arise from the bonds that different offices and teammates have shared on previous projects.
Connect on Social Media
True, social media is beneficial for marketing and publicizing your work, but it can also be leveraged amongst offices to build an online community.
While they may not be able to see each other every day, work colleagues across offices can get to know more about each other through social media platforms.
Platforms like LinkedIn even allow for sharing teamwork with a worldwide employment community and getting connections that may boost individual as well as team careers.
Meet Face-to-Face
Meeting your colleague one-on-one can have a significant impact on improving cross-office collaboration when working remotely.
Meeting up to discuss over a cup of coffee or an actual day together may bring up views and ideas that may have been missed during virtual meetings. Real benefits like easing tension, birthing new ideas, actually stem from taking short or long trips (as the case may be) to meet up with virtual teammates; therefore, it should be encouraged.

In conclusion, there's no one way to improving cross-office collaboration, but working at it consistently will make a significant difference. Without any doubt, improving cross-office collaboration is all about trying out new things.
Using modern tools, applying new strategies, utilizing more planning, and leveraging technology is the sum-up of improving collaborative work. With the appropriate measures taken, having a team divided up around the world may not be as complicated as it appears.
In case you need help choosing the most appropriate technology for your collaboration tasks and challenges in your virtual team, request a consultation with our experts.
---
Written by: Muriel De Bruyne on Friday, August 13, 2021