Interactive Screens for Schools Improve Curriculum and Test Scores
Written by i3-Technologies
Wednesday, November 17, 2021
Boost classroom cooperation, subject retention, and test scores by using interactive touchscreens in the classroom.
Interactive Screens for Schools
The days of hanging up posters and flipping through textbooks are long gone. Today's students are so distracted with their phones and tablets that instructors need to find new ways to engage them.
So, what better way to motivate students to interact in class than on technology they love? Interactive screens for schools of teaching, learning, and engagement, they are the now. This tech is proven to boost test scores and attract students towards paying attention in class (and not their phones).
Let's take a look at interactive touchscreens. But first, we need to clarify the difference between a touchscreen and an interactive board. An interactive board uses a project on a board with touchpoints built-in, whereas a touchscreen is an actual screen with a touch panel layered on top. Users can interact with both in much the same way, but touchscreens are more of an all-in-one solution yet restricted to screen size while boards can range in size but require multiple elements to be set up.
Interactive Technology Helps Students Collaborate and Understand Concepts
Nobody is great at every subject. Nowadays, it's easier than ever for students to shy away from the topics they don't grasp as effortlessly. But that all changes through active learning on interactive screens for schools.
In an article from the New York Times, author Eric Dash writes that teachers have been using interactive screens to transform learning potential in the classroom. And that was way back in 2004! Today, education and technology have intertwined even further. Apps like Kahoot!, SeeSaw, and Zoom are optimized and marketed entirely for classroom use. Touchscreens are no longer an extraneous device that stands outside of mainstream use. It's an essential part of the digital educational ecosystem. Read about Interactive Screens for Education.  
These devices are designed to spur collaboration, raise test scores, and improve students' understanding of a wide range of subjects. From math and science to social studies and language arts, interactive boards and various interactive classroom tech bring students together and help them understand concepts as a group.
Touch Screens are An Excellent Addition to Any Classroom
One of the best ways to help students learn is to allow them interaction. No one wants to sit and listen for 7 hours a day. Interactive screens make learning both easier and more fun because they capture the learner's interest and allow for a variety of feedback methods.
Screens also encourage learning because they make content come alive, which is much more engaging than merely reading from a book or listening to lectures. These interactive displays for schools can be used in a variety of ways: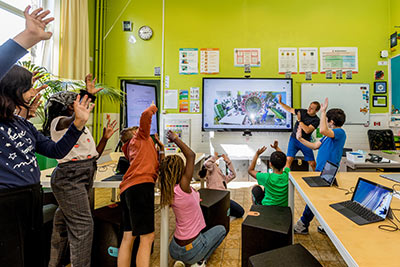 Touch Displays for the Classroom Are Incredible Visualizers
The ability to visualize a concept virtually not only provides a dynamic environment that's cost-effective for the school/teacher but also allows students to be involved in educational simulations. Some topics, particularly in STEM, are better understood when the student is able to interact with it or at least see it in action1. Interactive modeling and simulation are two key components that touch displays are more than capable of. They transform and support the static imagery and text from a traditional textbook into a comprehensible, virtual, 3D structure.
Dissections for biology courses, dangerous chemical reactions in chemistry courses, and modeling for engineering courses are all great examples of how these displays improve the learning experience2.
This extends to use for teachers, too, not just student interaction. During lessons or lections, teachers can explain with more precision the contents of their subject. In mathematics, in particular, this method of visualization has been proven to increase learning.3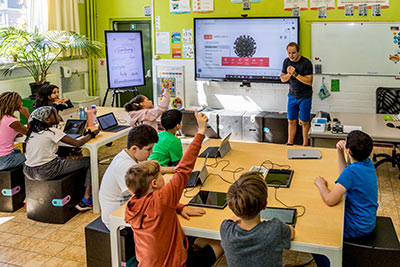 Interactive Screens Are the Multimedia Solution Schools Have Been Waiting For
With the rise of technology, there have been many attempts to change the system of education in different ways. The most successful ones have been based on the idea that students are active learners that can take control of their own learning if given the opportunity. The best way to make that happen is with interactive touch screens for schools.
With an increasingly remote learning style, not just for safety in 2021 but also for increased accessibility, touch displays for the classroom are what enables hybrid learning environments to thrive. Students now have the opportunity to learn no matter where they are.
Browse our selection of classroom-friendly technology to find the option that fits your school and students best.
References
1 D'Angelo, C., Rutstein, D., Harris, C., Bernard, R., Borokhovski, E., and Haertel, G. (2014) 'Simulations for STEM learning: Systematic review and meta-analysis', Menlo Park, CA: SRI International. 2014;(March).
2 Education Endowment Foundation (2018) 'Improving Secondary Science'. https://educationendowmentfoundation.org.uk/tools/guidancereports/improving-secondary-science/
3 Education Endowment Foundation (2017) 'Improving Mathematics in Key Stages Two and Three'. https://educationendowmentfoundation.org.uk/evidencesummaries/evidence-reviews/improving-mathematicsin-key-stages-two-and-three/
---